Entry Points:
About Paris
Paris is a Mormon pioneer settlement on the edge of Bear Lake Valley. The Bear River Mountains lie to the west, rising gradually through grass-covered hills. Bear Lake lies ten miles to the south. The valley stretches for as many miles to the east and northeast, covered in grassland, ranches and swamps.
Thirty families of pioneers arrived on September 26, 1863, led by Charles C. Rich. After a mild first winter, 700 more settlers came the next summer, which was followed by a very severe winter. Not all of them stayed. At nearly 6,000 feet in elevation, the winters are cold and long. It has been known to snow on the Fourth of July. It is the oldest town in Bear Lake County, and the county seat. The original county courthouse is still in use and the population of the town, currently at 576 (2000 census), has been relatively stable over the years.
As a monument to their religious fervor, the settlers undertook the construction of the Paris Tabernacle, which was finished in 1889 and seats 1500 people. It was constructed of sandstone, hauled across the frozen lake in winter, and has a steeple 110 feet tall. It seats over three times the population of the town. A school called the Fielding Academy was also built on the hill overlooking Center Street, which burned down in the early 1900s, but is visible in the historic photo below.
In the style of Mormon settlements, the streets of Paris are wide and laid out on an orderly grid with 5 streets running east-west and 6 running north-south. Main Street is also U.S. Highway 89. Paris is situated at the mouth of Paris Canyon, a long, gentle-sloping canyon leading into the mountains to the west. Paris Creek originates at Paris Spring and flows past the south of Paris. A popular nearby attraction is Paris Ice Cave, which is a short drive up Paris Canyon.
Paris was named after Fred Perris, who came with the first group of settlers and was the surveyor of the town. But the spelling was changed to match the name of the French city.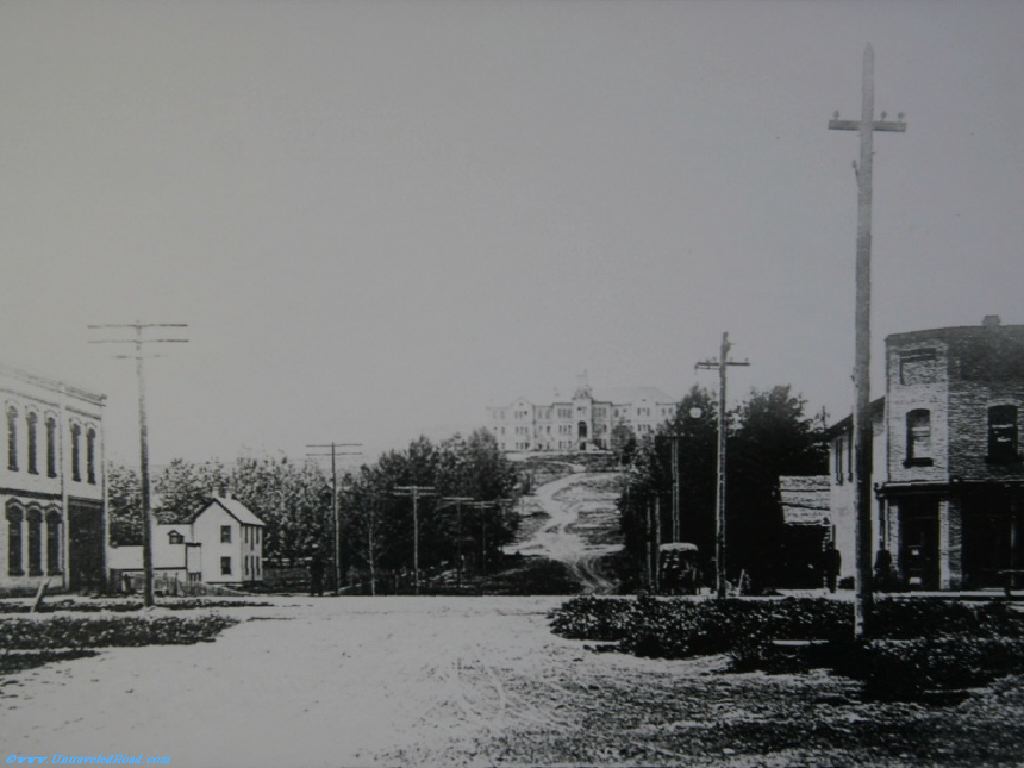 This photo of Paris dated 1911 hangs in the city hall in Paris and shows the view looking up Center Street from in front of the County Courthouse.
For More Information:
See the article in Wikipedia on Paris.
---
Street Index